*James Van Der Beek*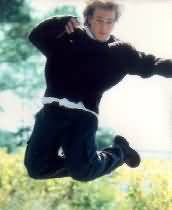 Full Name: James William Van Der Beek.

Birthday:March 8, 1977.

Birth Place: Cheshire, Connecticut.

Other Things He's Been In: Angus, Varsity Blues, I Love You...I Love You Not, Harvest,the off-Broadway play, Finding The Sun, and Shenandoah at the Godspeed Opera House in Connecticut.

James won a scholarship to Drew University, where he studied English and Sociology.